Adult Martial Arts Classes In Lutz
Stay In Shape And Learn Self-Defense In Our Adult Martial Arts Classes
If you're bored with your workout routine or you're hoping to start training after years of inactivity, we've got you covered at Reflex Taekwondo. Our Adult Martial Arts Classes combine the best aspects of fitness and self-defense, helping you stay active and challenge your body and mind at the same time.
PLUS, we offer a weekly weapons class, held every Saturday.
We are proud to work with men and women across Lutz, helping all experience levels thrive. Just fill out the short form on your screen to get started today!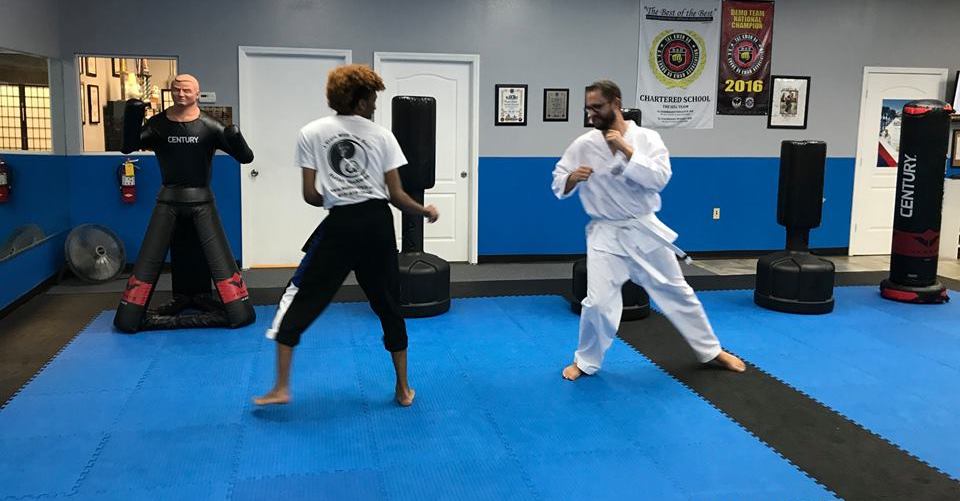 How Does Our Adult Martial Arts Program Work?
Using the teachings of traditional Taekwondo, we offer men and women an awesome way to stay active and motivated week after week. Our Adult Martial Arts program is great for all experience levels and can help you train for fun, for self-defense, or for high-level competition.
Each class can be catered to your unique skill level with modified movements and hands-on instruction. And as you gain comfort with the art of Taekwondo, you can push yourself to be faster and stronger in everything you do.
Join us in Lutz for:
Effective self-defense training
Improved reaction times
Boosted situational awareness
Daily stress relief

And Don't Forget: You'll See Results After Just A Few Classes
Unlike traditional fitness training, we're not forcing you to count reps and suffer through the same boring workouts. We're here to keep you challenged and push you to be better with every class.
In our Adult Martial Arts program, you'll work muscles in your body that you never knew you had and you'll feel an incredible sense of accomplishment after every single class.
At Reflex Taekwondo, we're helping you:
Burn fat and build lean muscle
Improve your hand-eye coordination
Learn better balance and speed
Increase your cardiovascular endurance
Take The First Step Today! Our Adult Martial Arts Classes Have Something For Everyone In Lutz!
Get more from every workout with our Taekwondo training at Reflex Taekwondo. We're helping men and women across our community get fit and learn how to defend themselves and their loved ones.
Join us in Lutz today for the best Adult Martial Arts Classes around. Just fill out the short form on your screen now!